FIND AND HIRE THE RIGHT WORKERS EVERY TIME
Temporary Staffing | On Demand Staffing | Hire Temporary Workers
Hire a Sales & Marketing Support Representative
Gig Workers
Gig · Flex · Project · Freelance
Save time and money sourcing and hiring local, skilled, and insured workers with Fulcrum Get Workers staffing
Gig – Flex – Project and Freelance Workers and Employers seeking scalable, quick to deploy and highly job relevant skilled resources with an innovative, integrated and singular platform offering flexible options to quicker to market and more cost effective business outcomes with Employers.
Gig Workers are quickly deployed, have up to date job skills and are scalable and adaptable to changing environments.
Let us be part of your long term strategy for finding Gigs or creating business deliverables with the partnering of Gig Workers.
In today's fast changing markets and economy, producing business outputs and outcomes to stay relevant and profitable is not always easy.
Get paired with a specialized, full-time, or freelance recruiter so that, right from the start, you get exactly what you need in a new hire, or a new job. Our recruiters are experts at matching creatives, marketers and technology mavens with businesses in need of top talent.
We Connect Gig Workers With Employers!
Gig Workers
Hire on-demand labor fast.
Quickly fill shifts, scale your workforce, or place extra hands on deck with Get Workers.
We're Making Work More Accessible
We create job opportunities that truly work for everyone. We're helping people access work that typically face barriers to traditional employment through accessible opportunities and non-biased matching practices.
We hire the best
So you can simplify your search. Each Fulcrum employee is highly qualified, fully-vetted and compliant so you don't have to worry about filling your staffing gaps. Simplify your staffing with Fulcrum so you can focus on bringing your business to the next level.
Temporary
Full-time workers require full-time shifts. Using Fulcrum pool of temp workers ensures that you only pay for the resources you need at the time you need them.
We are on a mission to help job seekers access opportunities and business find and retain talent in an ever-changing employment landscape.
Permanent
You are welcome to offer any of our temporary workers a full-time position without placement or temp-to-perm fees. It's our way to ensure you see us as partners helping you and your business.
We have a passion to allow our staff to build their schedules, preventing burnout and leading to more effective work.
We believe there's a better way to achieve success. A better way for our professionals to balance their work and life. A better way for our business partners to engage and fill staffing gaps to ensure their business runs smoothly.
We Take Care Of
Recruitment
Onboarding
Compliance
Payroll Processing
Performance Management
We connect workers with businesses—big and small. Whether you're finding new ways to earn, or filling your staffing needs, it's just a few clicks away.
Our Values
We build trust through responsible actions and honest relationships, and treat people with respect, dignity, and professionalism
Provide our staff and clients with innovative technology and superior quality, value, and support
Value and develop our staff's diverse talents and independence
Hold our clients, staff, and ourselves accountable for our words, actions, and results
Service Marketing Mix
Service Marketing Mix
Extended Marketing Mix
Introduction
In this article we discuss how the marketing mix for marketing a service is different to selling a product. If you would like to revisit the characteristics of a service click here. characteristics of a service
Just like the marketing mix of a product the service marketing mix comprises of Product, Price, Place and Promotion. How ever as a service is not tangible the marketing mix for a service has three additional elements: People, Process and Physical Evidence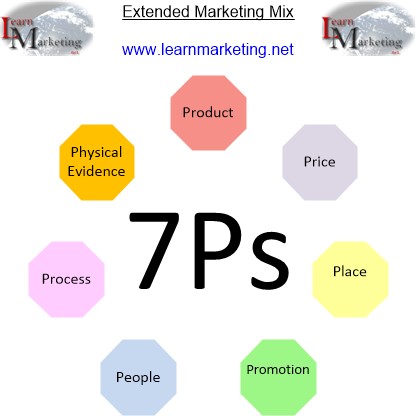 People
People are an essential ingredient in service provision; recruiting and training the right staff is required to create a competitive advantage. Customers make judgments about service provision and delivery based on the people representing your organisation. This is because people are one of the few elements of the service that customers can see and interact with. The praise received by the volunteers (games makers) for the London 2012 Olympics and Paralympics demonstrates the powerful effect people can create during service delivery.
Staff require appropriate interpersonal skills, aptitude, and service knowledge in order to deliver a quality service. In the UK many organisations apply for the "Investors in People" Accreditation to demonstrate that they train their staff to prescribed standards and best practices.
Process
This element of the marketing mix looks at the systems used to deliver the service. Imagine you walk into Burger King and order a Whopper Meal and you get it delivered within 2 minutes. What was the process that allowed you to obtain an efficient service delivery? Banks that send out Credit Cards automatically when their customers old one has expired again require an efficient process to identify expiry dates and renewal. An efficient service that replaces old credit cards will foster consumer loyalty and confidence in the company. All services need to be underpinned by clearly defined and efficient processes. This will avoid confusion and promote a consistent service. In other words processes mean that everybody knows what to do and how to do it.
Physical Evidence (Physical Environment)
Physical evidence is about where the service is being delivered from. It is particularly relevant to retailers operating out of shops. This element of the marketing mix will distinguish a company from its competitors. Physical evidence can be used to charge a premium price for a service and establish a positive experience. For example all hotels provide a bed to sleep on but one of the things affecting the price charged, is the condition of the room (physical evidence) holding the bed. Customers will make judgments about the organisation based on the physical evidence. For example if you walk into a restaurant you expect a clean and friendly environment, if the restaurant is smelly or dirty, customers are likely to walk out. This is before they have even received the service.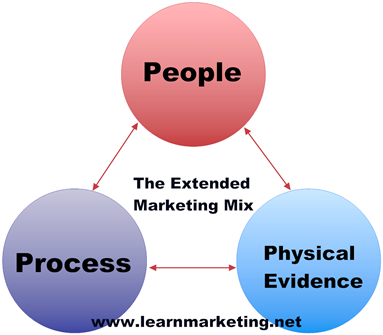 Conclusion
The Service Marketing Mix involves Product, Price, Place, Promotion, People, Process and Physical Evidence. Firms marketing a service need to get each of these elements correct. The marketing mix for a service has additional elements because the characteristics of a service are different to the characteristics of a product. The Characteristics of a service are:
Lack of ownership
Intangibility
Inseparability
Perishability
Heterogeneity.
To a certain extent managing services are more complicated then managing products, products can be standardised, to standardise a service is more difficult as there it can be affected by factors outside the service providers control.