FIND AND HIRE THE RIGHT WORKERS EVERY TIME
Temporary Staffing | On Demand Staffing | Hire Temporary Workers
Hire a Sales & Marketing Support Representative
Gig Workers
Gig · Flex · Project · Freelance
Save time and money sourcing and hiring local, skilled, and insured workers with Fulcrum Get Workers staffing
Gig – Flex – Project and Freelance Workers and Employers seeking scalable, quick to deploy and highly job relevant skilled resources with an innovative, integrated and singular platform offering flexible options to quicker to market and more cost effective business outcomes with Employers.
Gig Workers are quickly deployed, have up to date job skills and are scalable and adaptable to changing environments.
Let us be part of your long term strategy for finding Gigs or creating business deliverables with the partnering of Gig Workers.
In today's fast changing markets and economy, producing business outputs and outcomes to stay relevant and profitable is not always easy.
Get paired with a specialized, full-time, or freelance recruiter so that, right from the start, you get exactly what you need in a new hire, or a new job. Our recruiters are experts at matching creatives, marketers and technology mavens with businesses in need of top talent.
We Connect Gig Workers With Employers!
Gig Workers
Hire on-demand labor fast.
Quickly fill shifts, scale your workforce, or place extra hands on deck with Get Workers.
We're Making Work More Accessible
We create job opportunities that truly work for everyone. We're helping people access work that typically face barriers to traditional employment through accessible opportunities and non-biased matching practices.
We hire the best
So you can simplify your search. Each Fulcrum employee is highly qualified, fully-vetted and compliant so you don't have to worry about filling your staffing gaps. Simplify your staffing with Fulcrum so you can focus on bringing your business to the next level.
Temporary
Full-time workers require full-time shifts. Using Fulcrum pool of temp workers ensures that you only pay for the resources you need at the time you need them.
We are on a mission to help job seekers access opportunities and business find and retain talent in an ever-changing employment landscape.
Permanent
You are welcome to offer any of our temporary workers a full-time position without placement or temp-to-perm fees. It's our way to ensure you see us as partners helping you and your business.
We have a passion to allow our staff to build their schedules, preventing burnout and leading to more effective work.
We believe there's a better way to achieve success. A better way for our professionals to balance their work and life. A better way for our business partners to engage and fill staffing gaps to ensure their business runs smoothly.
We Take Care Of
Recruitment
Onboarding
Compliance
Payroll Processing
Performance Management
We connect workers with businesses—big and small. Whether you're finding new ways to earn, or filling your staffing needs, it's just a few clicks away.
Our Values
We build trust through responsible actions and honest relationships, and treat people with respect, dignity, and professionalism
Provide our staff and clients with innovative technology and superior quality, value, and support
Value and develop our staff's diverse talents and independence
Hold our clients, staff, and ourselves accountable for our words, actions, and results
The Marketing Plan
Chapter 8-

The Marketing Plan
The New Britain Rock Cats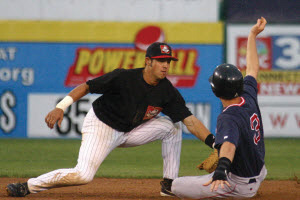 The New Britain Rock Cats were founded in 1983 in New Britain, Connecticut. They are the double-A minor league baseball affiliate of the Minnesota Twins major league baseball club, competing in the Eastern League. The 2011 season marked the 29th anniversary of Eastern League Baseball in New Britain.
There is a rich history of baseball in New Britain, and the Rock Cats are the Nutmeg State's oldest, continuously operating professional sports franchise. From Cy Young Award–winners to most valuable players (MVPs) and batting champions to rookie of the year award winners and all-stars, New Britain has been an enormously productive foundation for major league baseball. Over four million fans have seen professional baseball in New Britain over the years. The Rock Cats have many notable alumni, including MVPs Jeff Bagwell (third baseman) and Mo Vaughn (first baseman). All-stars include Brady Anderson (outfielder), Ellis Burks (outfielder), Aaron Sele (right-handed pitcher), John Valentin (shortstop), and Cy Young Award winner Roger Clemens.
In 2000, the club was sold to a group of investors headed by a local attorney, Coleman Levy, and William Dowling, a former New York Yankees executive vice president. Dowling is the president and CEO of the club, and Levy is the vice president. With a substantially new front office and new increased promotions, the club saw every attendance record fall, passing the 300,000 mark for the past 3 years.
The Rock Cats see themselves as selling affordable family entertainment, not baseball. They target women and children. They integrated the Internet into their marketing activities three years ago and have found it very useful for selling tickets. They also have a Facebook and Twitter presence. About 3 years ago, they spent $5,000 for a professionally prepared marketing research report. As Dowling commented, "It made the company more sophisticated."
The marketing planning process is relatively informal, with everyone participating. There is no formal document. Dowling's philosophy is that if something costs less than $1,000, "go do it." If it costs more than $1,000, "justify it." The Rock Cats are run out of a small office in New Britain. The communication among the staff is regular and effective. Here is an instance in which a formal marketing plan does not seem necessary. Whatever they are doing, it is working just fine.William Dowling (Rock Cats president and CEO), personal interview, March 15, 2011; "Rock Cats History," Minor League Baseball, accessed December 2, 2011, web.minorleaguebaseball.com/team5/page.jsp?ymd=20100316&content_id =8806396&vkey=team5_t538&fext=.jsp&sid=t538; "New Britain Rock Cats," Wikipedia, accessed December 2, 2011, en.wikipedia.org/wiki/New_Britain_Rock_Cats.
Video Clip 8.1
Rock Cats Baseball
A fun look at what the Rock Cats offer to fans.